The third article in our series by the speakers of Voices of Hope in a Time of Crises, a one-day event, which will explore localized solutions to our global problems and launch the International Alliance for Localization. Join the discussion on November 8th at The Cooper Union in New York City.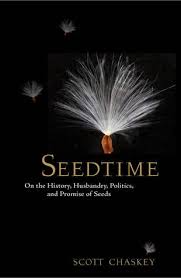 "There is a fabric of relationships available to us encoded in seeds, part of a timeless refrain that invites us to participate, to renew the story that has shaped us."
The Theologian and cultural historian Thomas Berry says that as a culture, "We are in trouble because we do not have a good story." We are between stories, he says, and the old story doesn't work anymore. I believe him when I observe the young people I work with in the fields—disenchanted with the legacy of industrial farming and the relentless pollution of our environment, they have chosen to help build the foundations for an ecological conscience. To invent a new story, Berry counsels, we have to recognize the "mystique of the land" to counter the industrial mystique, and he emphasizes the need for three commitments: a commitment to the Earth, a commitment to what he calls the ecological age—where values that support the environment are ascendant, and we recognize our role as stewards and participants; and a commitment to a definition of progress that includes the natural as well as the human world.
The industrial mystique is such an obvious force—we are surrounded by the sight and sound of it—but if you need a clearer picture of the mystique of the land, travel to a place beside a river adorned with alders or willows, walk through a stand of spruce or pine, sit for a moment in the silken down under a cottonwood tree, or follow the path of a monarch through a patch of self-seeded milkweed. In early spring, pause under a group of oaks to witness a cloud of pollen grains disperse into the air; later, in summer, stand under a maple to watch the winged seeds, samaras—that resemble "the innermost wings of grasshoppers" (from Gerard's Herball of 1597)—spin out on the wind in search of a place to germinate. Find some common clover in flower, and look closely to witness the variety of pollinators—bees, moths, flies, and wasps—that travel among the angiosperms, ensuring our food supply. Listen as water filters over stone in a creek bed or, at the base of waterfall, follow the spray that leads up into the air where a hawk may hover or a kingfisher may glide before slipping into the spruce woods. The land speaks to us through the creatures and plants that inhabit a place, and the stories that germinate like seeds hold a power to sustain our interconnection with other species and life-forms.
***
For more than 30 years, I have been tending the land, and I remain conscious of all that the word 'husbandry' implies: "to manage thriftily, to economize…to cultivate" (words that are also essential for any poet plying his or her craft). This also implies doing so in a sustainable way. Across this country, and, indeed, throughout the world, in the realm of agriculture and seed preservation there are multiple examples of people working together to create a new story. Collaboration is key to insuring that the revival of interest we are experiencing now continues to build and to become a "vibrant web of biodiversity and resilience," in the words of seedsman Bill McDorman. When our community farm participated in the Public Seed Initiative and the Organic Seed Partnership, two programs that facilitated on-farm collaboration among multiple participants—the Northeast Organic Farming Association of New York; our land-grant University, Cornell; the USDA experiment station at Geneva, N.Y.; and farmers—the communication lines opened up and valuable partnerships were fostered.
***
In 2010, at an event I could not have imagined—an heirloom vegetable auction at Sotheby's, New York, for which our Amagansett Peach garlic had been chosen—I happened to meet another pioneer of the seed business, Jere Gettle. He mailed out his first seed listing at age 17, with seeds saved from his gardens near Baker Creek, in the Ozark range of southern Missouri. Gettle went on the road a few years later, to Mexico, and then to Thailand, in search of seeds. In the winter of 2000, I was looking for a rare varietal I admired but could not source–Turkish eggplant (a round orange fruit, easily mistaken for a tomato)—and a friend directed me to Baker Creek Seeds. Since then, our plant selection has been augmented by such varieties as Pipian of Tuxpan (a beautiful and rather tasteless striped squash, though when roasted its seeds are delicious), Malakhitovaya Shkatulka ("malachite box," a graceful green tomato from Russia), and the huge, sweet watermelon, Crimson Sweet. The Baker Creek catalogue, 212 pages long, now lists more than 1400 varieties of (primarily) heirloom seeds.
Gettle is an inveterate traveler—passing through the small town of Petaluma, California, with his wife, Emilee, a few years ago, he happened to notice a bank building, "for lease." Soon the sign on the façade of the classic western mercantile building had been changed to read: SEED BANK. The currency offered within are not greenbacks, but OP seeds that will preserve a green diversity. Oregon seedsman, Frank Morton, founder of Wild Garden Seed, who has inspired a generation of seed lovers and plant breeders through his innovative techniques and his creative garden aesthetics, offers a definition of a seed that could well serve as the epigraph for the new story we are searching for: "The best deal in nature: dense nutritional matter with a self-organizing program and energy array. For cheap."
Scott Chaskey will speak at Voices of Hope in a Time of Crisis on November 8th in New York City. author, poet, philanthropist and farmer, runs Quail Hill Farm in Amagansett, New York, one of the first CSA farms in the country. He is the author of Seedtime: On the History, Husbandry, Politics and Promise of Seeds and This Common Ground: Seasons on an Organic Farm.