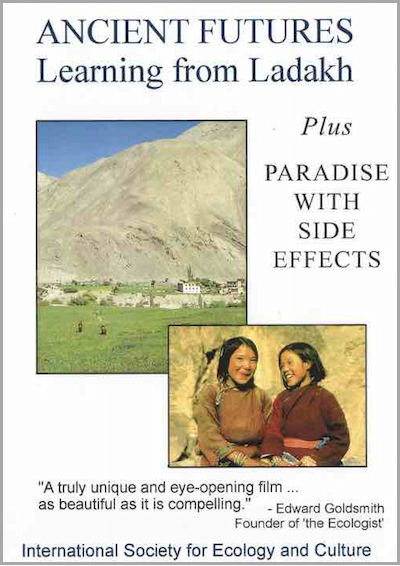 Combined DVD: Ancient Futures & Paradise with Side Effects
SKU 04
Product Details
This DVD contains two full-length films: Ancient Futures: Learning from Ladakh and Paradise with Side Effects.

Total running time: 100 minutes
Only available in PAL format
---
Ancient Futures: Learning from Ladakh
Ancient Futures, length 60 minutes
Produced by John Page,1993
Associate producers: Chris Breemen, Helena Norberg & Hodge & Eric Walton
Narrated by John Page
Based on the book Ancient Futures: Learning from Ladakh by Helena Norberg-Hodge
---
Ladakh, or 'Little Tibet', is a wildly beautiful desert land high in the Western Himalayas. It is a place of few resources and an extreme climate. Yet for more than a thousand years, it has been home to a thriving culture. Traditions of frugality and cooperation, with an intimitate and location-specific knowledge of the environment, enabled the Ladakhis not only to survive but to prosper. Then came 'development'. Now in Leh, the capital, one finds pollution and divisiveness, inflation and unemployment, intolerance and greed. Centuries of ecological balance and social harmony are under threat of modernization.

Ancient Futures is much more than a film about Ladakh. The breakdown of Ladakh's culture and environment forces us to re-examine what we really mean by 'progress' - not only in the 'developing' parts of the world, but in the industrialized world as well. The story of Ladakh teaches us about the root causes of environmental, social and psychological problems, and provides valuable guidelines for our own future. Watch the trailer here.
DVD includes bonus material from 2014: An 11-minute postscript which describes some of the changes that have occurred in the 20 years since the film was made, and features new interviews with several of the Ladakhis who were in the original film.
You can also watch the film online on Vimeo on Demand.

"An extraordinary film.......compelling viewing."
- Times Educational Supplement
"A truly unique and eye-opening film"
- Edward Goldsmith, founder of The Ecologist
---
Paradise with Side Effects
Paradise with Side Effects, length 40 minutes
Directed and produced by Claus Schenk, 2004
---
A documentary following two Ladakhi women on a trip to England as part of a Local Futures "reality tour." The tour introduces Ladakhi participants to everyday life in the West as it really is, thereby helping to balance some of the glamorised images of the modern world that are generated by tourism, advertising and the media.
Originally produced for German and French television, this film provides fascinating insights into the pressures facing non-Western people as they confront the global economy.
With stunning footage from Ladakh, this is a valuable resource of anyone concerned about the spread of the consumer culture and the ensuing destruction of the planet's cultural diversity.
---
The films can also be ordered separately:
Ancient Futures: Learning from Ladakh
Save this product for later