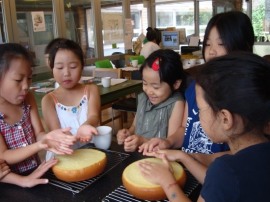 "This is a very special house. It's called the House of Happiness through Communication. People live here like a big family."
Our guide was 12 year-old Seon Jae, and we were standing in front of an unremarkable-looking 3-story brick building in Mapo-gu, a district of the high-rise metropolis of Seoul, South Korea. We were there to learn about Sungmisan, an "urban village" that is forging an alternative model of twenty-first century living. Seon Jae is a student at the Sungmisan School, and was keen to give us her insider's perspective on the value of community.
"People have much richer lives when they share them with others," she continued, sounding mature beyond her years. "They eat together, they play music together, they always have company."
She's right, of course. And the overwhelming feeling at Sungmisan—in stark contrast, it must be said, with much of the rest of Seoul—is of people who are connected: both to each other and to the wider community of which they are a part.
The village was founded in 1994, when a group of neighbors joined forces to set up a local childcare center. A number of "struggles", as they are referred to, attracted more members—most importantly, a two-year campaign to stop the building of a water supply facility on top of a small wooded hill that gives the village both its name and much of its character. Today, Sungmisan comprises about 700 households, as well as 70 businesses and other institutions—including a food cooperative and restaurant (both a hundred percent organic), a small theater, an ecological soap producer, two schools, even a dental practice.
Sungmisan is not defined by geography (though all the village's members live within a mile or so of each other), but by shared values. Throughout Mapo-gu's narrow, winding lanes and alleyways, the village weaves an invisible new consciousness: an awareness that the future lies not in more consumerism and economic growth, but rather in healthy, happy and vibrant communities. This translates into a citizen-run library, cooperative care of the elderly, a workshop run by a disabled young man, a local radio station and all kinds of arts and music projects.
At the Sungmisan School, now in its eleventh year, the emphasis is on nurturing a deep concern for social and ecological well-being. Students learn about climate change, appropriate technology and sustainable agriculture. They build things from wood—useful things—and grow vegetables in the school's rooftop garden. Always as a team, in partnership. In a radical departure from the norms of contemporary Korean education, which encourages rote memorization and intense competition almost literally from the cradle, the emphasis here is on learning through collaboration and mutual responsibility. The students themselves organize regular field trips to rural Korea and beyond, forging close links between their urban village and the farmers on whom the village depends for fresh, healthy food. What's more, as part of their education they spend an entire academic year living and working on a farm.
This is a people's movement, and owes little, if anything, to government or other outside help. However, there are indications that the message is beginning to get through to the mainstream. In 2012, the city government established the Seoul Community Support Centre, whose stated purpose is to facilitate the process of building "urban village communities". In addition, new legislation was passed, making it easier to set up community-based cooperatives.
In recent months, Korea has been subject to an unusual level of cultural soul-searching. The new right-wing government has brought into sharp focus issues relating to democracy, accountability and equality. Meanwhile, the Sewol ferry disaster, in which more than three hundred schoolchildren lost their lives, has generated widespread debate about some of the key assumptions—to do with "efficiency" and quality of life—on which the modern economy is founded. The principles that Sungmisan represents, which would in the past have been widely ignored or dismissed, are slowly moving in from the fringe.
Sungmisan is an inspiring experiment, offering profoundly important firsthand lessons in community building and sustainability that are relevant way beyond the limits of Seoul. In a city that, in common with other mega-cities the world over, seems at times to be bent on its own destruction, it is an oasis of calm, a living, breathing model of social and ecological sanity.